So this isn't really a tutorial. It's more like a photo diary of all the steps we went through making our invitations. It was definitely more work than having them made, but it was something Rubin and I got to do together. Plus, I enjoy putting in personal touches where I can and at $250, you can't beat the price.

Things we used for this DIY:
❤ a letterpress kit
❤ letterpress paper & ink
❤ a customized letterpress plate (I designed ours in photoshop)
❤ a typewriter
❤ a custom stamp (a replica of text from our typewriter) & ink
❤ a ruler
❤ an x-acto knife
❤ stamps

Total Time:
about three days

Total cost:
$250
Please excuse my messy office...
The first step was cutting the paper to size.
For the back of the invitations, we typed up what we wanted the invitation to say using our typewriter and had a stamp made from the sample so we could use the typewriter to add in the names.
The typewriter belonged to Rubin's late grandmother.
Rubin was in charge of all the typing.
I was in charge of all the letterpressing. Here is the plate.
I cut out the center and printed that first.
Then the sea fan in black.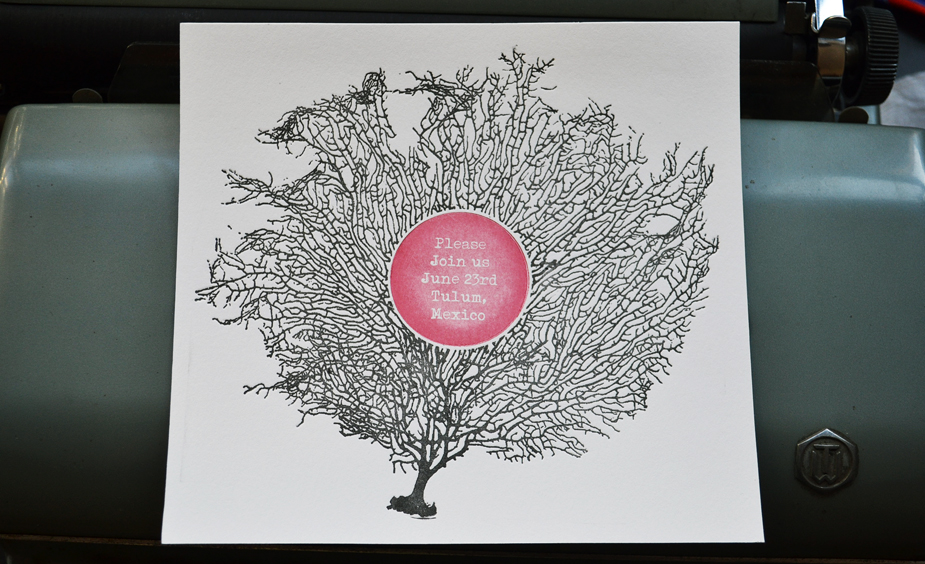 We used the typewriter to address all the envelopes.
We had a bunch of vintage stamps and used them for postage which looked really nice. I think you can buy vintage stamps on Etsy.