Things you will need for this DIY:
✝ a doily
✝ sticks
✝ light and dark colored embroidery floss
✝ scissors
✝ cruelty-free feathers

 
Total time:
1 hour
Total cost:
Check your attic and local park before you buy anything.
One of my favorite things I've inherited from both Rubin's late grandmother and mine are beautiful hand made doilies like this one. I'm not really stoked on putting them on armrests so I am always looking for ways to display and appreciate them. I have a few ideas, here is one..
I took a stroll in the park and collected these twigs.
First tie the sticks together to make a large loop.
Make sure the loop is larger than the doily.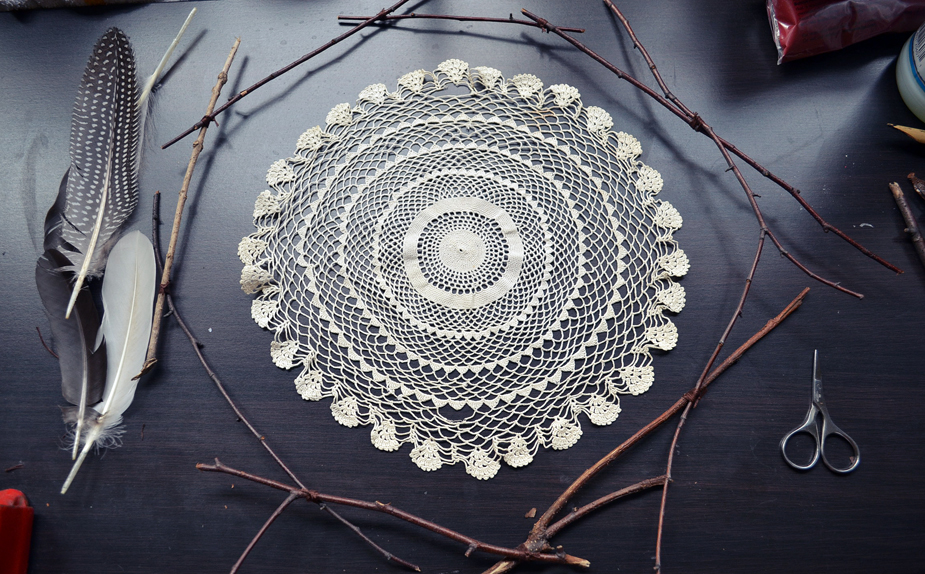 Tie one scallop of the doily to the loop.
Then tie the opposite scallop. Work all the way around, alternating opposite sides. This will keep it circular.
Then wrap the feathers in thread and attach.
Voila! Hang above your bed to catch all the bad dreams. In our case, the guest bed.